Steal This Blog Idea #3: Get a Big Gulp of Smart Marketing With 7-Eleven's New Merch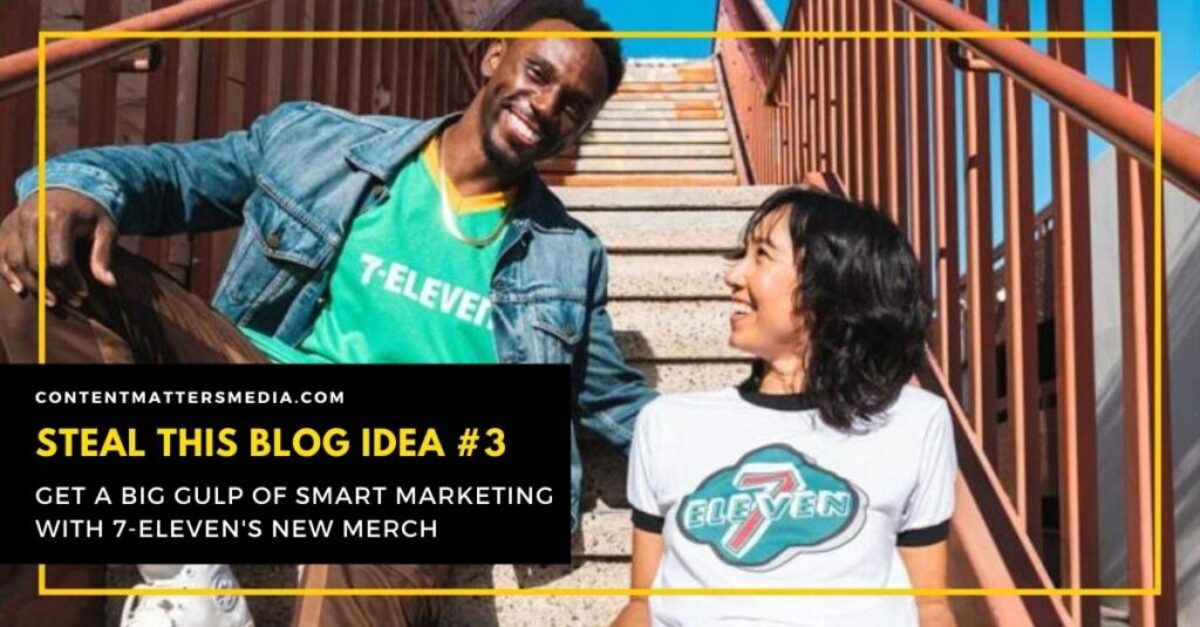 Deadline looming for publishing your next blog post and all you have is a blinking cursor? Not to worry. We've got your back. Steal this blog idea about how 7-Eleven has created a merch collection around their iconic products and then make it your own with lessons learned for creating company stores for brands of any size.
We've written the intro for you:
7-Eleven, the famed convenience store that's known for its Slurpees® and Big Gulps®, has done limited releases of its branded merch in the past, but they've been sporadic at best. What's a true fan to do?

Recognizing the fan demand for merch, 7-Eleven has debuted the 7Collection™, an online merchandise shop specially curated with 7-Eleven stans in mind. Oh thank heaven!®

The shop features exclusive apparel and accessories—including vintage tees, hats and an assortment of memorabilia—inspired by 7-Eleven and its fan-favorite products that customers can't find anywhere else.
To make this story your own, add your own spin by:
Talking about how company stores can benefit brands of any size
Adding commentary on how 7-Eleven successfully pulled in brand iconography to create merch designs customers will love
Pulling quotes from the press release to talk about the strategy behind the promotion
Sharing what your audience can learn and implement when creating their own company stores
Offering your top tips for building regular merch drops for online stores
Showcasing a selection of best-selling as well as unique items for a company store that can be ordered today
For transparency, be clear that you don't have an affiliation with the program (unless you do). It's not cool to misrepresent involvement, but it is cool to praise the creative genius of others and talk about why their ideas are effective.
Pro Tip: Global brands regularly issue press releases about their marketing campaigns. By reporting this information as a starting point and then adding your own commentary on the elements of what makes the company story successful + what your audience can learn and implement to make their merch drops better, you've got a topical, educational and entertaining article that shows the power of branded merchandise when it's thoughtfully integrated into marketing campaigns. That's how you create content that matters.
Steal This Blog Idea #3: Get a Big Gulp of Smart Marketing With 7-Eleven's New Merch #bloggingtips #contentmatters
Click To Tweet
---
What's Next: Want to steal more ideas? See the entire collection—and bookmark the page for future reference—here.
Love this idea but don't have the time or staff to write it yourself. No problem. Hire us to write it for you! We'd love to customize this piece by integrating your takeaways + tailoring it to your audience. Contact us here to get the convo started.
Want consistent content that elevates how you talk about promotional products + supports your sales process that's easy as 1, 2, 3? Our Signature Blogging Program is created just for you. Contact us to get all the details.
Feedback: Did you steal this idea and publish a blog post using it as a starting point? We'd love to read it! Drop us a line here with the URL and let us know how it went and what response you got from readers.
Have you seen a great merch collection we should write about? Send us the link here.
Like this? Please share it on social media so others can benefit, too. Thanks!
Image courtesy of 7-Eleven