Client Earned Media: Forbes Feature – Seven Tips For Building A Themed, Interactive Event Experience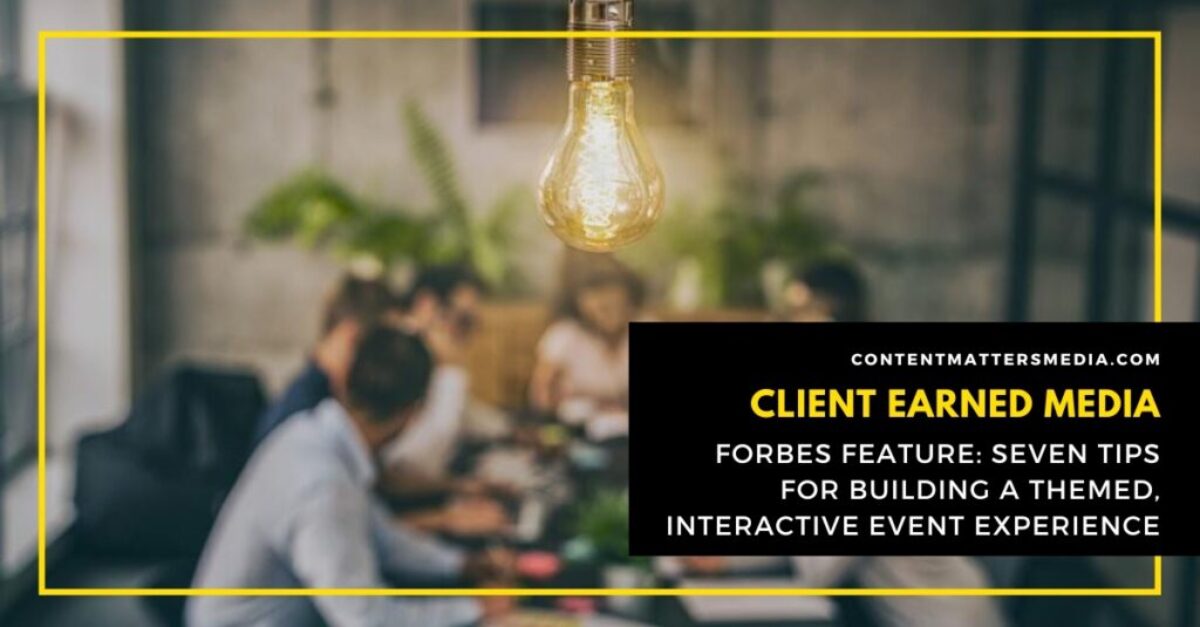 While virtual events are convenient, there's nothing like the excitement and energy that in-person events provide.
For brands, creating an interactive event experience is important because the more memorable the occasion, the longer attendees will remember your brand—and all the positive emotions that came from the experience.
Because experiential events are such an engaging way to market your brand, Valerie Hayman Sklar, president of Corporate Specialties, asked us to ghostwrite an article that would showcase her event marketing expertise. Not only would the article generate visibility for her company, but it would also complement her sales process to help her land even more event marketing business.
In the Forbes.com feature Seven Tips For Building A Themed, Interactive Event Experience, we wrote about the tried-and-true tips when choosing an event theme to make sure it aligns with the experiential activity as well as the spirit of the client's brand. 
Now when Valerie has the opportunity to talk with her clients about how to create an unforgettable themed event, she has content ready to send them so they can understand her philosophy and see her expertise. And since the article was published by Forbes, there's added credibility.
Earned media is an investment, but it's significantly more cost effective than advertising because you can continue to reap the benefits by incorporating the content into your sales process and realize ROI for years to come.
To see how the story turned out, read it here.
Takeaway: Content matters. And having additional ways of sharing your thought leadership beyond your own blog matters, too. By establishing relationships with industry publications and working with them on earned media opportunities, you can reach new audiences while building your brand, sharing your expertise and boosting your online reputation.
Client Earned Media: Forbes Feature – Seven Tips For Building A Themed, Interactive Event Experience #casehistorys #contentmatters]
Click To Tweet
---
What's Next: Media relations complements all your other marketing initiatives—websites, blogging, social media, email blasts, catalogs, printed collateral, direct mail campaigns and events. Regardless of economic climate, a targeted media relations plan can make effective use of your marketing dollars at a fraction of the cost of advertising. Plus, the implied third-party endorsement of being featured in publications positively impacts your corporate credibility.
If you're interested in becoming the go-to expert for your favorite publications, we can develop a strategy that aligns your knowledge with the publications' needs to craft a targeted pitch of your expertise. Then we can ghostwrite the articles when they say "yes!" Contact us to learn how we can work together.
Feedback: What did you think of this article? Do you use earned media as a part of your marketing strategy? If so, how do you use these articles to support the sales process? We'd love to learn more about your experience working with the media as well as how this article resonated with you. Drop us a line here and let's get the conversation going.
Like this? Please share it on social media so others can benefit, too.