Is It Time To Outsource Your Content Production? (Hint: It Probably Is)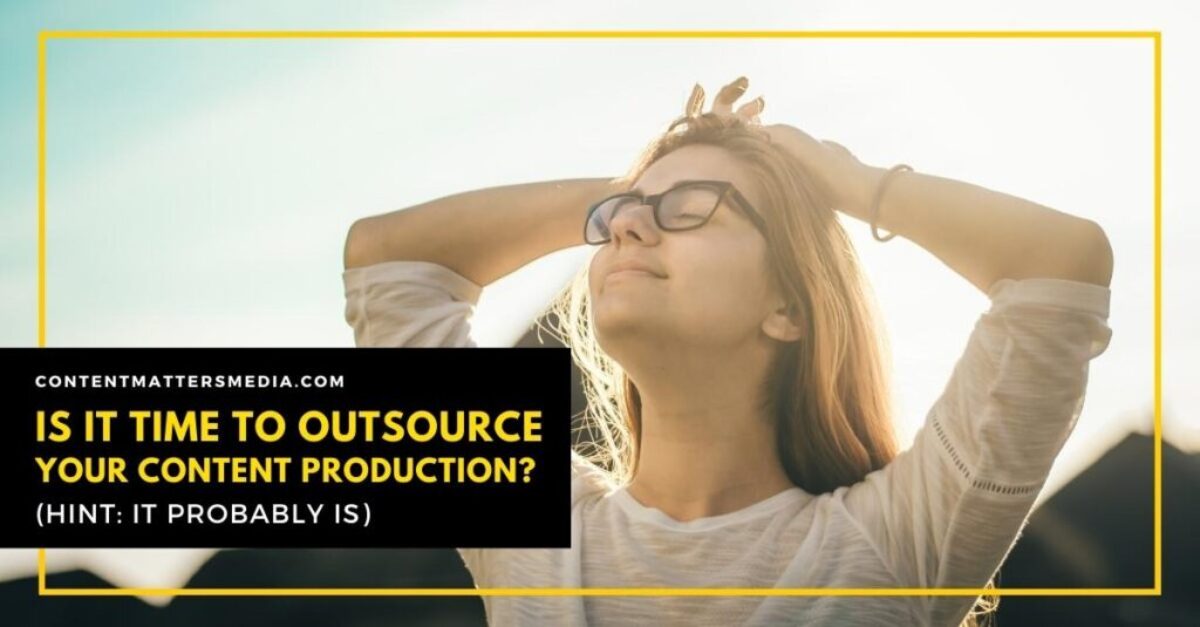 You know the reasons why your business needs to have consistent blog content. And you know that using blog content to support the sales process maximizes ROI beyond creating awareness for your brand. But do you know if you should create blog content in-house or look for a trusted partner outside your organization?
Creating a blog program yourself means that you must have the vision to know what information customers need, the dedication to consistently create the kind of messaging that resonates with customers AND you must invest the time to manage the entire process.
Is it time to outsource your #content production? (Hint: It probably is.) Check out these 11 signs you need to outsource content creation.#blogging #pr #earnedmedia #contentmatters
Click To Tweet
11 Signs You Need To Outsource Content Creation
Weighing the options of keeping your content production internal vs. partnering with a content agency? Ask yourself these 11 questions to determine what capabilities you currently have, and then you can make a decision with confidence.
1.Do You Have Staff That Can Write Editorially?
As a promotional products business owner or manager, you most likely have built a team for sales, internal admin, IT, operations, accounting and perhaps some marketing. While many of them may be quite good at written communications, most probably don't have editorial content creation backgrounds. And why would they? Content creation wasn't part of the original job description.
To know if you need to outsource, look at your current team. Do any of them have writing experience? If so, have they worked specifically in content creation such as blogs, magazines or news reporting? Are they good storytellers? Do they write in such a way to capture your brand voice?
If the answer is no to any of these questions, it may be time to outsource your content.
2. Do You Have Enough Staff Support?
After the market shrinkage in 2020, most companies are operating pretty lean. And with talk of a coming recession, many companies may not be expanding staff. As such, most team members are working at capacity. Creating blog content "when there's bandwidth" isn't a sound, long-term strategy.
Embarking on a blogging program takes commitment of time and resources. To know if you need to outsource, evaluate the capacity of any current team members that have the journalistic skills to lead your blog program. Do they have the time with all their other duties? No? Then it's time to consider outsourcing.
3. Do You Need To Hire Internal Staff? Do You Want To?
If you do not have any current team members who possess editorial chops or the ones who do are at max capacity with their existing assignments, one option is to hire another internal team member.
Do you want to create a robust enough blogging program to employ the new hire full time? Or perhaps you want someone only part time? Either way, there are hard costs of salary and benefits + soft costs of time you'll need to get them trained along with ongoing management of them and the blogging project.
To know if you need to outsource, evaluate the cost of hiring, training and ongoing management of an employee vs. the price of using an experienced content marketing firm that understands your industry.
4. Can You Effectively Manage Freelancers?
Freelance writers can be a great addition to a team. They bring specific expertise and storytelling capabilities. You can hire on-demand. And you can mix and match talent based on current needs.
While there are a lot of pros, the cons are that you still have to source and hire qualified freelancers, determine content direction, write creative briefs, edit their work and manage the entire process. Any weak links in the process and you run the risk of having content that is poor quality, past deadline and/or not on-brand.
If you don't have the experience, time or extra mental capacity available to complete all of the above tasks, then it may be time to outsource.
5.Can You Write Creative Briefs Correctly? Do You Want To?
The difference between a good story and a great story often comes down to how well the creative brief is written. Content creators aren't clairvoyant (although many clients think we are). We like having specific instructions on what an article should include, but we also need the flexibility to be creative and go where the subject matter takes us.
The creative brief is where all assignment details are collected, from the overarching goal of the piece to the specifics of what products, keywords, images, and internal and external links must be included. Good briefs give the highest probability of the writer meeting expectations. Bad briefs make it a proverbial crap shoot.
That's not to say that a great writer can't overcome a bad creative brief and still submit a great piece. But more often than not, a great writer can write to the brief specs and still be off target because the brief didn't contain all of the pertinent details required to create the engaging article you envisioned.
So if you don't have the overall vision to build creative briefs and/or can't effectively communicate all details in a manner writers understand, then perhaps consider outsourcing.
6. Do You Know How To Develop Engaging Story Ideas?
One of the biggest stumbling blocks when building a blogging program is what to write about. While I see story ideas everywhere (that is my superpower), most people don't see the world that way.
Or, perhaps you often have story ideas but you don't know how to develop them into articles that support your sales process AND are engaging reads that customers will enjoy.
To effectively manage a blogging program in-house, you must have great story ideas that are well developed so the articles can hit a number of targets—from creating brand awareness and supporting the sales process to entertaining, educating and engaging your audience. If this doesn't sound like you, outsourcing may be your new BFF.
7. Do You Know How To Create, Develop & Use Brand Voice?
If you removed the visual branding from your blog or social media, would it be clear that the remaining written content is from your brand? Could this content just as easily be from a competitor's site? If you answered "yes," then you haven't yet perfected your brand voice.
While you want content that sounds human, it also must be consistent in vocabulary, style, tone and authority—even when incorporating multiple authors. This can be achieved by being very clear on who your audience is, what kind of language they respond to and how you can develop a brand voice that separates you from the competition.
If all this sounds Greek to you, then it may be time to outsource.
8. Do You Know How To Seamlessly Integrate Keywords?
Keywords are critical for getting organic search traffic. Inexperienced content creators or managers may try to cram keyword phrases into blog posts in an attempt to rank high. But more isn't more. Readers know when an article is stuffed with keywords; it sounds artificial.
Good content seamlessly integrates keywords contextually. They make sense and flow within the story. Done right, readers may not notice how the keywords are strategically placed because the text sounds so natural. But google will see these keywords and understand how to include your content in search results.
If your strategy for including keywords is akin to throwing spaghetti at the wall to see what sticks, it may pay off to outsource.
9. Do You Know How To Leverage Content Across Platforms?
Many people think that publishing a blog post is the end of the process. You've crossed the finish line. Yay!
Nope.
In fact, publishing the blog post is just the beginning. To maximize ROI for your content assets, you must leverage them across platforms. This means incorporating your blog content into social posts, email copy and other sales support communications.
If you don't know how to create complementary content from the foundational blog post, then consider outsourcing.
10. Can You Manage All The Details? Do You Want To?
Successful content creation requires managing every single tiny detail: Headline and subhead formatting, image sizing, internal and external linking strategy, keyword placement, URL slug configuration, meta description, word count and sentence structure to name a few.
In addition to micro details, you also have to look at the macro details. How will this piece support the sales process? How does it complement existing content? Do all pieces comply with your brand parameters and style guide?
But that's not all. You also have to drive all the elements of the content to make assignments to freelancers or in-house staff.
If you have little experience creating content, this can seem overwhelming…and may be a sign that outsourcing is for you.
11. You Don't Know What You Don't Know
The above 10 points covered A LOT of ground. But guess what? There's still so much more that goes into creating great content than can possibly be covered in one blog post, and much of this je ne sais quoi simply comes from experience and innate talent.
If you've never built a comprehensive blogging program and/or produced consistent content, there is a significant learning curve. You'll experience a lot of trial and error. And be prepared: All aspects of the process will simply take longer because you'll have to figure things out as you go along because you don't know what you don't know.
Making The Decision To Outsource
If you're passionate about creating content and want to take the time to really learn how to do it yourself, that's terrific! Apply your creative talents in a new way. I can tell you that seeing your own byline never gets old, and reading your own published work is quite satisfying.
However, if you have any doubts about your ability, capacity or willingness to commit to everything required to build a powerhouse blogging program, then outsourcing may be in your future.
Put another way: If you answered "yes" to any of the above points, it may be time to consider outsourcing your content needs. If you answered "Yes!" to more than three, then it's definitely time to outsource.
Hiring experts that have been creating editorial-quality content for decades ensures that your content is aligned with your business goals, your top selling products, and the markets you currently support and/or want to expand into. Outsourcing also allows you to focus on your strengths so you can stay in your zone of genius. Finally, outsourcing gives you more space to work on your business and not just in it.
Takeaway: Content matters. If you want to have the professional content your brand requires without having to DIY it, then outsourcing is for you.
Hiring experts ensures that your #content is aligned with your biz goals, top selling products, & the markets you currently support or want to expand into. #bloggingtips #contentmatters
Click To Tweet
---
What's Next: Ready to outsource your content production? Our Signature Blogging Program is the easiest way for promotional products companies to elevate how they showcase branded merch. And it's easier than ordering a gluten-free meal at your favorite restaurant. Contact us here to get started.
Feedback: Do you have a blog now? Are you producing it in-house? Have you outsourced production before? If so, what was your experience like? We'd love to learn more about what has and hasn't worked for you. Send us a message here and let's get the conversation going.
Like this? Please share it on social media so others can benefit, too. Thanks!