Crappy Content: How To Tell If It Smells & What You Can Do To Freshen It Up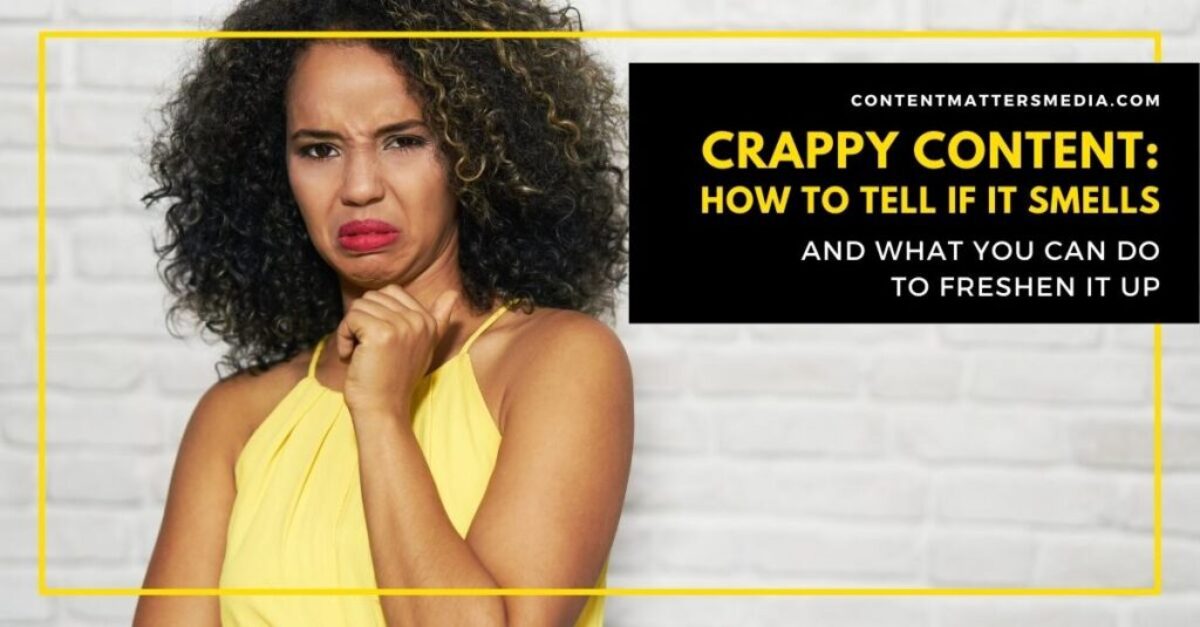 "All content is good content," said no one ever.
In fact, the only thing worse than having no content at all is having crappy content.
It's no secret that using content—website copy, blog articles, social media posts, videos, podcasts, emails, newsletters, etc.—is necessary to increase brand awareness, instill trust, convert the sale and build loyalty. But not all content is created equal. If done poorly, the very content you want to enhance your brand reputation can very well destroy it.
Is your content crappy? Read on to determine what constitutes crappy content, how to identify if your content stinks and what you can do to fix it so that your content emanates that sweet smell of success all around your brand.
There's more to creating great content than technical accuracy. These tips will help you clean up problem areas so your content smells oh-so sweet.#writingtips #contentmatters
Click To Tweet
What Is Crappy Content?
OK, so there's no "official" definition of what makes content crappy, but you definitely know it when you see it.
Some telltale signs that your content belongs in file 13:
Poorly written, photographed, recorded or produced
Typos, bad grammar and wrong punctuation in written pieces
Lack of clear purpose
No singular focus, too many topics discussed
Scattered approach to storytelling that's hard to follow
Lots of jargon and/or meaningless words
Too short with no real substance
Too long with information overload
No unique perspective; same info that can be found at competitors
No appeal to target audience/ideal client
No clear tie-in to overall brand messaging
Overtly sales focused
Overall boring and not engaging
While this isn't an exhaustive list, you get the idea. And note: These attributes skew toward written content, as that's my area of expertise, but they generally apply to auditory and visual means of content production as well.
When evaluating your content to determine where it lands on the scale of awesomeness, the objective is to have pieces that are of high quality, with length that is appropriate for communicating the desired information, representing your brand well without being annoyingly salesy and leaving the reader more knowledgeable than before they consumed your content.
How can you do all this? Keep reading, baby. We're gettin' to the good stuff.
Freshen Up Stinky Content With These Tips
Throughout my career, I've edited hundreds of contributed articles. At this point, perhaps it's topped 1000. Know this: It's a lot.
When I've come across crappy content it's typically because there are problems in at least one of nine key areas: There are quality and accuracy issues, there's no logical hierarchy, readability is difficult, length is either too long or too short, context is missing or unclear, the audience isn't targeted, the message isn't on-brand or there's no flair, and/or the call to action is missing, lacking or doesn't convey a clear benefit.
Let's take a closer look at each, along with specific questions you can ask yourself as you write and edit:
Quality & Accuracy
One of the first benchmarks to look at when determining if your content is craptastic is technical accuracy. This is what's generally addressed through proofreading and fact checking.
Ask yourself:
Is the work free from typos and grammatical errors?
Are sentences properly punctuated (especially comma use)?
Do subheads have parallel style?
Do lists or bullet points have parallel style?
Are all names spelled correctly?
Are quotes, statistics and any other referenced material accurately attributed?
Logical Hierarchy
Content should have a hierarchy. Stories or posts begin with a headline, the opening paragraph (aka lede) explains what the content is about, subheads outline the important points, and any further bullet points or numbered lists enhance readability.
When readers see dense paragraphs followed by even more dense paragraphs, it discourages diving in. Furthermore, with today's short attention spans, most people skim an article first before deciding to devote time for further exploration.
A properly formatted hierarchy not only gives you as a content creator the structure you need to organize your thoughts, but it also provides readers multiple entry points and makes your content easier to consume.
Writing a blog? A properly formatted hierarchy gives the structure you need to organize thoughts + provides readers multiple entry points & makes content easier to consume. #bloggingtips #contentmatters
Click To Tweet
Ask yourself:
Does the headline capture readers' attention? Is it clickable?
Does the headline accurately explain what the article is about (no clickbait)?
Do the introductory paragraphs keep readers' attention and entice them to continue reading?
Are there subheads to add further structure and enhance readability?
Are bullet points or numbered lists included when applicable?
Readability
Next, evaluate how the text reads. It should be understandable and have an easy flow, but not so simple that that the content sounds childish. (But if you're writing to a children's market, make sure the prose is age-appropriate.) Conversely, if sentences are cumbersome and require re-reading to comprehend, it's time to edit.
Ask yourself:
Is there a clear purpose for the post, and is this communicated in the opening paragraphs so readers know what to expect going forward?
Is there a singular focus that aligns with the purpose, keeping any unnecessary tangents at bay?
Have jargon or meaningless words been eliminated?
Is the writing tight and concise?
Have run-on sentences been eliminated; are compound sentences clear?
Are there multiple points of entry—subheads, pull quotes, images—that enhance readability and make the content easy to skim?
How does the content read? Is there a cadence and flow? Read it aloud; how does it sound?
Length
How long should your content be? Think of yourself as Goldilocks. Don't make it so short that it's meaningless, and don't make it so long that it's arduous to read. Thus, it needs to be just right.
How long should your blog post be? Think of yourself as Goldilocks. Don't make it so short that it's meaningless, and don't make it so long that it's arduous to read. Thus, it needs to be just right.#bloggingtips #contentmatters
Click To Tweet
What constitutes "just right" is up for debate. Some find success with short pieces (hello, Seth Godin), with others find long-form content performs better (Longreads, the name says it all). It comes down to what information your audience needs and wants. And by establishing your purpose and having a singular focus as discussed above, you'll be able to stay on point.
Ask yourself:
If the reader doesn't know anything about the topic of the blog post, does it cover the essential information?
How much description is given: Enough to illustrate points but not too much to be overwhelming?
Are there any unnecessary tangents that detract from the original purpose?
Context
Successful content has context. It's not only a presentation of facts or opinions but also the supporting information so that your unique perspective is brought to life.
Successful content has context. It's not only a presentation of facts or opinions but also the supporting information so that your unique perspective is brought to life.#writingtips #contentmatters
Click To Tweet
For example, let's examine a popular topic in the world of promotional products: Trade shows. There are a lot of them within our industry, and they're a popular application for branded merch. It's no surprise, then, that there are lots of articles about how to best use promo at trade shows.
Does this mean you shouldn't write about trade shows, too? Of course not. Just be sure to give context. Add in storytelling. Show how you've created effective campaigns for trade shows buy using unexpected products.
If you've attended an event, talk about your biggest takeaways, list the lessons from educational sessions, do a roundup of products that really made you take notice or share a conversation that changed how you view opportunities for the next six months.
Ask yourself:
Is your topic one that's written about often by your competitors? If so, the more context is needed to make it unique to you.
How can you include anecdotes to illustrate your points?
Do you have client success stories to give social proof?
Targeted
If you're trying to write to everyone, you're writing to no one. Being so general in an attempt to appeal to any kind of customer dilutes the message. Niches give clarity. It's imperative for your business, not just your blog, to understand exactly who your ideal client is.
If you're trying to write to everyone, you're writing to no one. #writingtips #contentmatters
Click To Tweet
If you haven't done this work, check out this post from Pia Beck at Curate Well Co. She's a master at understanding your ICA (Ideal Client Avatar), and the article contains practical tips to help you work through the process.
Armed with this foundational info, you'll be able to write directly to your ICA because you understand the pain points, can make appropriate recommendations and be seen as the expert you are.
Ask yourself:
What industries does your client base represent (healthcare, hospitality, insurance, retail, B2C, government, etc.)?
From which of these industries does 80% of your sales originate?
Is geography a factor; do you need local language?
On Brand
Just like your content should be targeted to your ICA, it should also be aligned with what your brand represents. For example, I write about the process of writing, the business of blogging, and how to use PR and earned media to enhance your brand.
If I published a post on how to work on the transmission of a 1979 Corvette, however, you'd be confused and wonder what the hell was happening. (That's not to say I won't work in a car reference into the narrative occasionally, because this kind of muscle machinery is sexy.)
With that in mind, have defined categories that your content lives within so you can generally stay in your lane.
While the text should be on brand, no one wants to read a sales pitch. Yes, you can and should have a call to action in the conclusion. If readers are interested in your products and services, absolutely give them instructions on how you can work together.
That said, being too salesy is a big turnoff. It comes down to show vs. tell. Don't tell readers how great you are; show them examples of success that demonstrate your expertise.
When writing blog posts, being too salesy is a big turnoff. It comes down to show vs. tell. Don't tell readers how great you are; show them examples of success that demonstrate your expertise.#bloggingtips #contentmatters
Click To Tweet
Ask yourself:
Does the blog post fit into one of your established categories?
Does the message in the blog post align with your overall company messaging?
Did you include a call to action that pulls in readers rather than pushes them away?
Flair
To overcome boring and unengaging content, you gotta add personality. Be conversational. Unless you're doing technical writing, the rules are more relaxed than they were in Mad Men days, so write like you're chatting with a friend. Toss in a bit of slang and cultural references to add flavor (like that Mad Men ref I just did), if it makes sense with your audience.
Have a theme that you can incorporate throughout. For this piece, I used the imagery of wadded up papers next to a trash can to visualize crappy content not only in the featured image but also the introductory paragraphs and sprinkled throughout until the conclusion.
Strong verbs are your friend. Incorporate those bad boys with gusto! I've peppered a wide variety of verbs throughout this piece—increase, instill, convert, build, enhance, destroy, constitute, emanate and skew, to name a few. Each of these paints a picture for the reader, and the added variety augments the experience.
Vary sentence structure and length. Mix the simple with compound. Begin with an introductory clause or interject a phrase now and again. Using an appropriate amount of variety helps you find a conversational cadence, which ties back into readability.
Punctuation—periods, semi-colons, asterisks and em dashes like I'm using here to separate this section—can also liven up writing to show emphasis, excitement and emotion. Just don't go overboard with exclamation points. One is enough!
Including alliteration (words that begin with the same letter) or rhyming words can add flavor. But think of it as adding spices to your food—a little goes a long way.
Ask yourself:
How have you added flair, and are these techniques true to your brand?
Does the way you've structured sentences and used punctuation enhance (rather than detract from) what you've written?
Did you incorporate strong verbs (and avoid passive voice)?
Call-To-Action (CTA)
What do you want readers to do once they're consumed your content? Surely, it's more than nod and say, "That was well written."
The call-to-action circles back to the purpose of the article. While you don't want the piece to be an overt sales pitch, it is appropriate to have a paragraph within the conclusion to direct readers as to what to do next.
Whether you want them to download a freebie to join your mailing list, contact you for a free consultation or simply share the post on social, invite your audience to continue the conversation with you. And don't forget to let them know how they will benefit. If they don't understand WIIFM (what's in it for me), they won't take any further action.
If blog readers don't understand WIIFM (what's in it for me), they won't take any further action. Give them a clear call to action.#bloggingtips #contentmatters
Click To Tweet
Ask yourself:
Does the CTA align with your business goals?
Is there a clear benefit for readers to take the desired action?
Customers Want Value, So Cut The Crap And Deliver The Content They Need
Can content that is technically well written still be crappy? You bet.
Too often, I see companies hire copywriters that produce technically accurate content, yet it doesn't resonate with customers. If buyers don't find benefit from your content, they won't refer back to it when making a purchase decision. Nor will they share it with others who might be interested because they don't find it valuable. If there's no value (and customers determine this), then guess what? You've got crap.
I've also seen businesses hire SEO firms to create optimized content, and while traffic may increase through proper use of keywords, there's often little to no conversion. Why? Most likely, the context misses the mark because there's no true understanding of the target audience. This is another case of ideal clients not finding value in the content (which often requires a significant financial investment to outsource), and that stinks.
There's also a misconception about the quantity of content required, and in the haste of generating more and more content to feed the machine, quality is sacrificed. I much prefer fewer pieces that are strategically aligned with business goals and go deeper into a subject than many posts that are superficial and lack purpose. If the content produced doesn't enhance your online reputation, then it detracts—and that's crappy.
Keep in mind that content that works for one company, may not be successful for another. Even close competitors within the same industry have differences in customers and thus differences in content needs. The key to creating successful content is to really know your customers and have the ability to deliver information at the right time in the sales process to help them along the purchasing journey.
Finally, when creating content, write from your customers point of view. Rather than pontificating with what you want to say, flip it and compose what your customers need to hear. It's a subtle difference, but this sweet spot is where the power is. The power to create the sweet smell of success all around your brand.
Takeaway: Content matters. The words you use can either attract or repel ideal clients. By cleaning up crappy content, you can make the right impression with your ideal clients.
Is your content crappy? This checklist shows you how to tell if it smells & what you can do to freshen it up. Bookmark this one. #bloggingtips #contentmatters
Click To Tweet
---
What's Next: Unsure where your content lands of the craptastic scale? Perhaps you know your content needs to freshen up but don't know where to start? Our Creative Audit service is for you. We look holistically at overall quality, writing style, formatting, consistency, photography and graphics to determine how it all combines into a unified piece. We also evaluate how well the content speaks to the defined target audience and is aligned with stated business objectives. Contact us to learn more.
If you have a single piece of content that needs a critique, we have red pens…and we're not afraid to use them. Get a writing critique to not only ensure your message is 100% but also receive a list of recommendations for things that can be improved, added or subtracted as well as prioritized next steps and resources for more information. Get started by contacting us here.
Feedback: What did you think of this article? What was your top takeaway? Were there any surprises that you hadn't considered? What tips will you implement to ensure your content stays out of File 13? Wed love to know more about your experience as well as what spoke to you the most. Give us a shout here and let's get the conversation started!
Like this? Please share it on social media so others can benefit, too. Thanks!