Steal This Blog Idea #2: "Reece's University" Is A Stroke Of Marketing Genius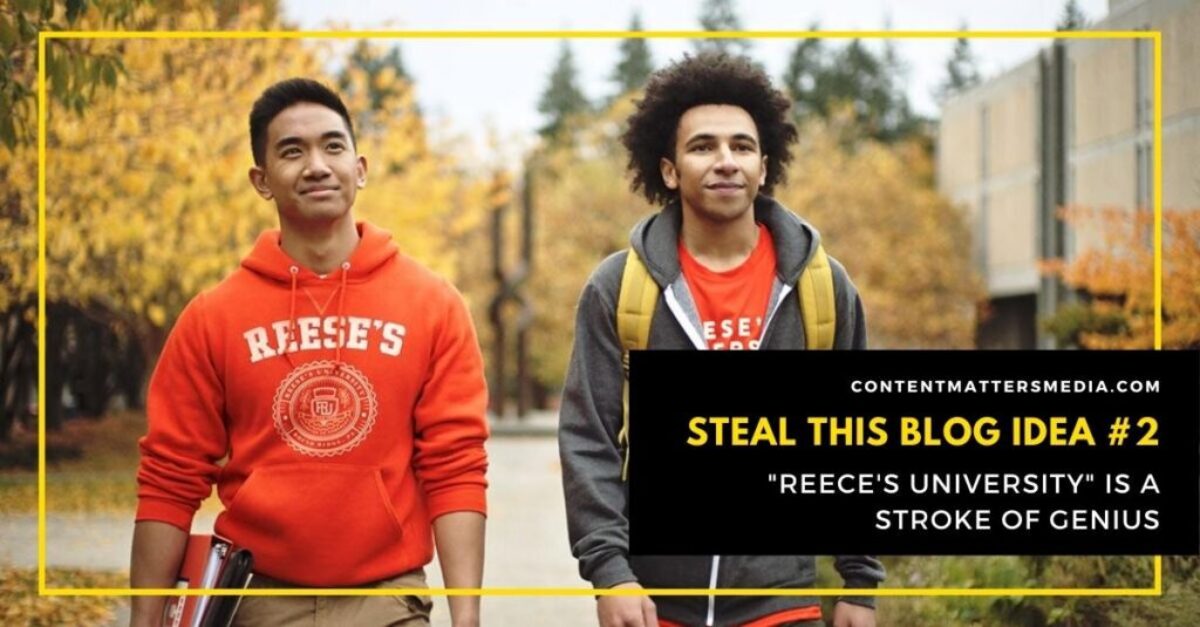 Out of ideas for your next blog post? Steal this one about how Reece's created an immersive brand experience through the launch of Reece's University (RU) and use it as a jumping off point to talk about how a collegiate theme goes beyond traditional educational institutions and can be used for conferences, sales meetings, employee onboarding and more.
We've written the intro for you:
When the marketing team at Hershey was developing a fall football promotion for the Reece's brand, they wanted a creative concept that went beyond traditional campaigns and loyalty programs. After nine months of hard work and dedication, Reece's University (RU) was born.

While not an actual university (according to Reece's lawyers ?), RU "wraps the spirit and fandom of college around the No. 1 selling candy brand in the U.S." People have strong ties to their alma mater, and RU smartly taps into the nostalgia that comes from this pivotal point in life.

Fans can submit their application to join the "Fighting Cuppies" (and their larger college community, known as "Peanut Butter Nation"), and they receive special communication, offers and experiences from the brand—including an awesome selection of merch in the student store.
To make this story your own, add your own spin by:
Discussing why campaigns with a college theme have emotional appeal that marketers—and customers—love
Adding commentary on how the campaign elements are successfully interwoven to create an experience
Pulling quotes from this article by Ryan Riess, Hershey's VP of brand strategy and creative development, to talk about the strategy behind the promotion
Sharing what your audience can learn and implement to make their campaigns more engaging
Demonstrating how your customers can create a university-themed campaign with your top tips
Showcasing a selection of best-selling items for a "school store" that can be ordered today
For transparency, be clear that you don't have an affiliation with the program (unless you do). It's not cool to misrepresent involvement, but it is cool to praise the creative genius of others and talk about why their ideas are effective.
Pro Tip: By using a successful marketing campaign by a global brand as a starting point and then adding your own commentary on the elements of what makes the campaign successful + what your audience can learn and implement to make their campaigns better, you've got a topical, educational and entertaining article that shows the power of promotional products when they are thoughtfully integrated into marketing campaigns. That's how you create content that matters.
Steal This Blog Idea #2: "Reece's University" Is A Stroke Of Marketing Genius #bloggingtips #contentmatters
Click To Tweet
---
What's Next: Want to steal more ideas? See the entire collection—and bookmark the page for future reference—here.
Love this idea but don't have the time or staff to write it yourself. No problem. Hire us to write it for you! We'd love to customize this piece by integrating your takeaways + tailoring it to your audience. Contact us here to get the convo started.
Want consistent content that elevates how you talk about promotional products + supports your sales process that's easy as 1, 2, 3? Our Signature Blogging Program is created just for you. Contact us to get all the details.
Feedback: Did you steal this idea and publish a blog post using it as a starting point? We'd love to read it! Drop us a line here with the URL and let us know how it went and what response you got from readers.
Have you seen a great merch collection we should write about? Send us the link here.
Like this? Please share it on social media so others can benefit, too. Thanks!
Image courtesy of Reece's