Content Strategy: Busting The Three Biggest Myths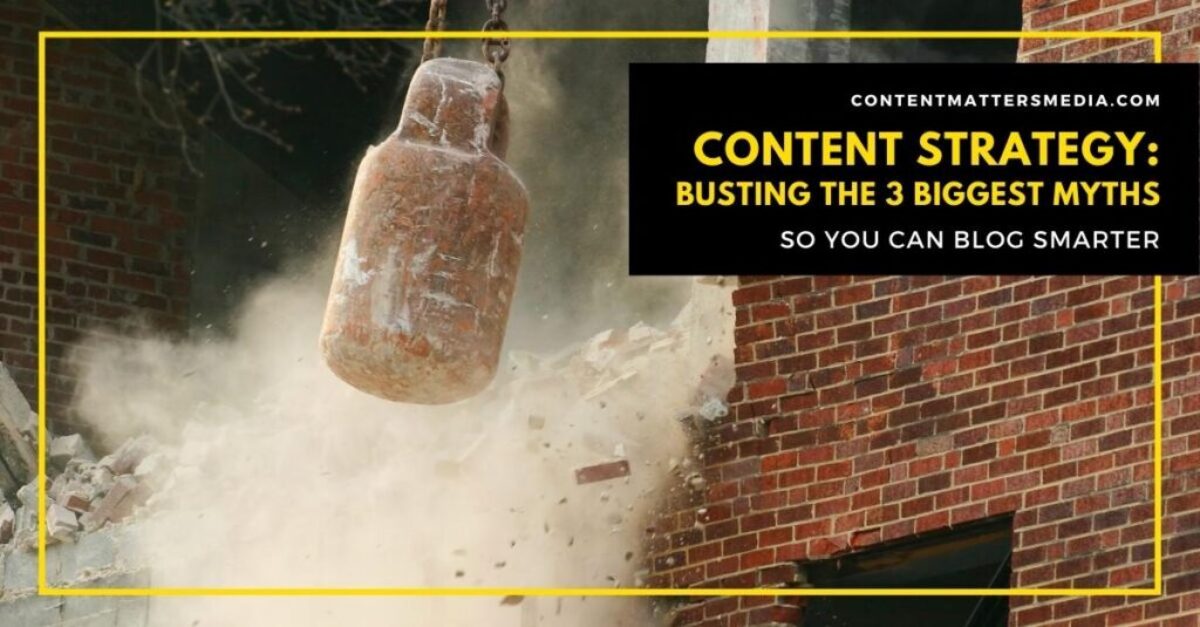 Content strategy. It's the foundation for any effective content marketing program, whether you're creating blog articles, social media posts, PR campaigns or earned media articles. It not only defines what the content communicates but also to whom you're communicating, where you're publishing the info, when it's published, what business goals the content supports and how you know if it's successful.
Sure, you can create content without a strategic plan behind it. But just because you could, doesn't mean you should. Take a look at all the crappy content scattered around the internet, and you'll know what I mean.
Why doesn't everyone do initial due diligence before hitting the "publish" button? I've heard all kinds of excuses, but it really comes down to three big misconceptions: Creating a content strategy is too time consuming, too difficult and too expensive.
True or false? Creating a #contentstrategy is too time consuming, too difficult & too expensive. Busting the 3 myths that keep good companies from reaping the benefits that quality content provides. #ROI #contentmatters
Click To Tweet
These myths are keeping good companies from reaping the benefits that quality content provides. So, I'm gonna come in like a wrecking ball and bust these myths so you not only understand how proper content strategy can boost the effectiveness of your content marketing efforts but also add more clarity and ease to the process.
Interested? Keep reading.
Myth 1: Content Strategy Is Too Time Consuming
I've heard it from clients before: "I don't have time to build out a content strategy."
It's easy to feel that way. Between having to take care of leads, sales calls, marketing materials, customer care, employee relations, payroll, taxes and everything else on a business owner's to-do list, it seems impossible to add anything else to an already overflowing plate.
I feel you nodding. Kinda like when you're at the doctor's office and she tells you to exercise for 30 minutes and get your 10,000 steps per day. Yeah, sounds great, but…
So let's look at it this way: What happens if you don't make time to strategically map out your content?
1. Publishing tends to be infrequent and/or erratic.
Without a plan in place, you may only create when inspired, which leads to big gaps in your online presence. You may also find yourself scrambling in the wee hours to post something, anything. This content is often hit or miss because the messaging ends up being inconsistent and may not intentionally tie into overall business goals.
2. Content topics lack variety and don't tell your complete brand story.
Ideally, there's a nice depth and breadth of content on your social channels and blog (which is organized into categories for easy navigation). Things like posts about your products and services, customer success stories, how-to's, tips and more.
Without a plan, however, it's natural to default to whatever story category is the easiest to produce. Over time, you end up with a lot of content in one category and miniscule amounts in others. The content as a whole is out of balance. As a result, you're missing pertinent pieces of your brand story.
3. Content may not resonate with ideal clients.
A strategic plan allows you to determine what your ideal clients need to learn and where you can create content to support and serve them. If this focus isn't established at the beginning, you may be creating content that you want to say rather than what your customers need to hear. It's a subtle difference, but it's the difference between your content falling flat vs. truly resonating with your audience.
4. Time is actually wasted.
Being disorganized is a huge time suck. Look at the other aspects of your business where you have an organized, intentional process. Sales, for instance. When you follow your sales plan, it ensures that you make contact, present the relevant information, prepare a quote, process the order, do the job, deliver the goods or services, bill the customer, process the payment and say thank you. There's an efficient flow that can be repeated, taught to others and scaled.
Same thing with planning your content. By creating a system around researching topics, developing messaging, determining publishing schedule, blocking off creative time, doing the work, publishing the content, promoting the content, evaluating metrics and course-correcting as you go, you build efficiency into your content workflow. And efficiency always saves time.
You have a choice: Do you want to wing it and hope for the best, or do you want to carve out a bit of time now to create a system that streamlines your content development, writing, publishing and evaluation efforts so that you give customers the data they need to make an informed purchase—and ultimately save time in the end?
Myth 2: Content Strategy Is Too Hard And Only For Large Organizations
When you research content strategy online, it's common to see case histories of how large corporations do all the things. But what if you're a small business or a solopreneur? Those massive campaigns are overwhelming. You don't know where to begin and it seems too hard, so why bother?
I totally get it. But here's a little secret: You don't have to do all the things. Choose one kind of content and start there. Keep it simple. The quantity of content and the detail of the plan is 100% scalable to your size of business. In fact, I believe the smaller the business, the more critical it is to have a strategic plan around your content.
Here's why: If you're a business owner and you are also the person responsible for content creation, publication, promotion and evaluation, your time is at a premium. You must be efficient with your time. And for all the reasons discussed in Myth 1 above, efficiency comes from having a plan and executing it.
For businesses of any size that have an in-house marketing person/team or that outsource their content work, having a solid content plan in place is critical for those staffers to be able get their jobs done. Without it, they are working blindly and can't possibly meet expectations if these expectations haven't been defined.
Having a plan that keeps management and staff on the same page and working toward the same goal just makes good business sense. Thus, company size is irrelevant when it comes to building a content strategy. All organizations benefit from the efficiency, clarity and ease built into process.
Myth 3: Content Strategy Is Too Expensive
There's always a cost for doing or not doing something. What you must evaluate is whether the time or financial outlay is worth the value received. This is true for purchasing a coffee at Starbucks, upgrading your cell phone, leasing new office space or hiring a content consultant.
First, let's look at value in relation to what an hour of time is worth. How much do you pay yourself, employees, freelancers or vendors per hour? $25, $50, $100 per hour?
What if creating a content strategy saved your company one hour per week. Using those hourly wages, that would save you $1300, $2600 or $5200 per year.
Now here's where things get interesting. What if you saved two hours per week, simply by having the right processes in place? That would save you $2600, $5200 or $10,400 per year.
Does the investment, whether you are taking the time to create a content strategy yourself or partnering with a professional to build it, pay for itself?
Next, let's look the costs associated with not having a content strategy in place. While this isn't an exhaustive list, these are the most common pitfalls:
Missed deadlines and sporadic/infrequent publication means fewer opportunities to engage with customers and prospects
Unbalanced editorial that misses pertinent pieces your brand story
Lots of questions from staff/freelancers because assignments are not properly briefed
More rewrites and edits to align content with company style, formatting, messaging and goals
More time spent on repetitive tasks (sizing images, SEO protocols, hashtag usage, etc.)
Lackluster or unknown performance of content since success metrics weren't identified
Lower employee morale for those responsible for content because their jobs aren't properly defined
Lower quality of work done by unmotivated and uninspired staff
Little engagement on social media
No increase in website traffic through the blog
Writing doesn't resonate with audience
Ideal clients look for knowledge elsewhere
You can see that many of these things are time sucks and, as you know, time = money. Additionally, if your content doesn't connect with your audience and they look to competitors for solutions, you're missing out on opportunities for company growth.
Looking at the investment of building a content strategy to drive your efforts vs. the cost of not having a plan in place, which would you rather do?
Content Strategy Is The Roadmap You Need To Stay On Track
Think of content strategy like a roadmap. You know your starting point and your destination, but there's no one right way to get there. You can take freeways or side streets, a direct course or the scenic route. It all depends on your goals.
Same with your content strategy. It should be a framework with options that can be tailored to meet new demands but still get you where you want to go.
To get the most out of your content strategy, use it as a tool that gets refined over time. As you produce content and test what works and what doesn't, update it. A strategic plan should have a solid foundation plus the flexibility to grow and get better. By approaching it with an attitude of progress over perfection, you'll be able to iterate your way to success.
Takeaway: Content matters. Don't believe the myths that producing content is too time consuming, hard or expensive. The truth is that you can have content that elevates your brand image, connects with ideal clients, supports the sales process, improves customer loyalty and ultimately grows your businesses.
Don't miss out on the benefits that quality content provides. Proper #contentstrategy boosts the effectiveness of content marketing efforts + adds more clarity & ease to the process. #ROI #contentmatters
Click To Tweet
---
What's Next: Interested in building a content strategy but don't want to go it alone? We can help. Whether you need a simple editorial calendar for your blog or a multi-platform integrated program for blogging, social media, PR and earned media, we can work together to create a strategy that works for you. Contact us here to see if we're a good fit.
Feedback: What did you think of this article? Do you have a content plan already? How has it helped you? We'd love to learn more about your experience as well as what spoke to you the most. Drop us a line here and let's get the conversation started!
Like this? Please share it on social media so others can benefit, too. Thanks!