Client Blog Spotlight: Six Favorite Koozie Group Factory Tour Finds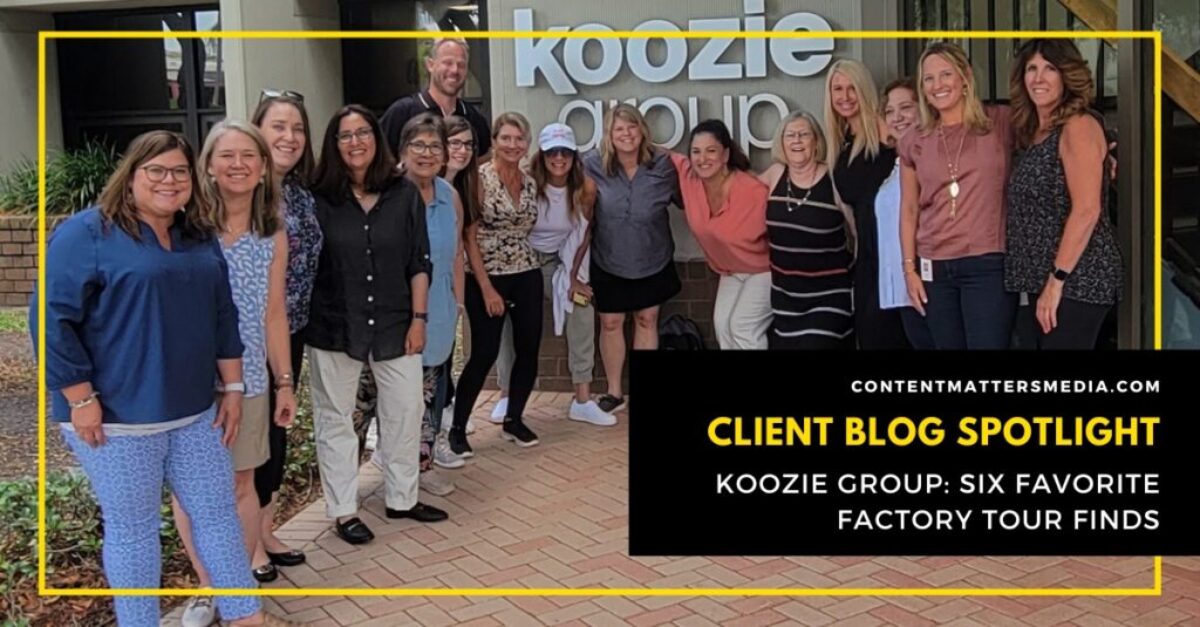 Koozie Group is one of Corporate Specialties' top go-to suppliers, so when the CorpSpec team had the opportunity to take a factory tour, they jumped at the chance. And we jumped at the chance to write about it.
You see, anytime you attend an event, whether it's a trade show, educational conference or factory tour, there's a blog post waiting to happen. Instant content!
These timely articles show that you're active in the industry and provide an opportunity to share what you've learned to your customers—because all that learning is done to benefit them. The more you invest into professional development, the better you can serve clients by developing promotional marketing campaigns that get results.
For the post Koozie Group: Six Favorite Factory Tour Finds, we introduced Koozie Group and talked about the brand names they carry + their sustainability initiatives. From there, we shared how products are decorated, including a video of pens being made and imprinted.
And since the Corporate Specialties team got a sneak peek at several new product debuts, we also included those, along with some of their best-selling favorites, so readers could get a sense of what's available. Read the post here to see how we put it all together.
Takeaway: Content matters. And one easy way to augment blog content is with event recaps. Often overlooked, these stories can be easy to produce and they're important posts that show clients you value continuing education and are up on industry trends.
Client Blog Spotlight: Six Favorite Koozie Group Factory Tour Finds #casehistory #contentmatters
Click To Tweet
---
What's Next: Want to add event recaps to your blogging lineup? Let's chat. We can create a strategy and a system to easily capture all the info and present it in a way readers love. Contact us here to get started.
Feedback: What did you think of this article? Do you create content around trade shows, education conferences or factory tours you attend? If so, how are you using these posts to support the sales process? We'd love to learn more about your experience as well as how this article resonated with you. Drop us a line here and let's get the conversation going.
Like this? Please share it on social media so others can benefit, too.