Writing A Blog Post: You Don't Have To Begin At The Beginning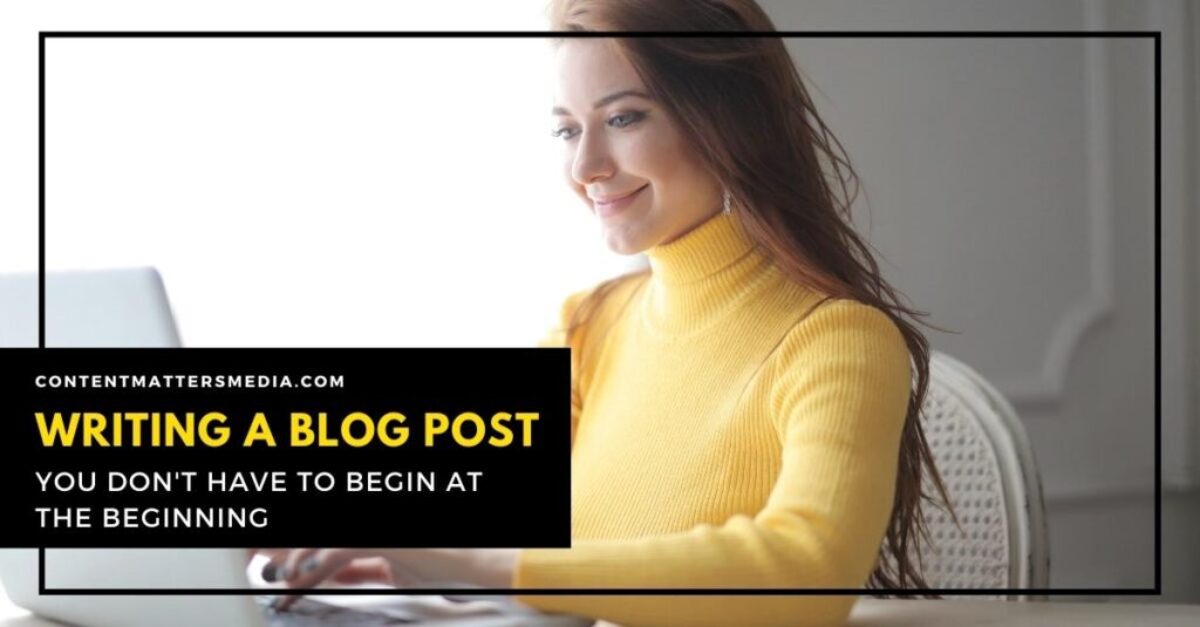 Have you ever sat down to write a blog post and…nothing happens…except the blinky-blink-blink of the cursor on a crisp, white sheet of digital paper.
And as every second ticks by, the blinking intensifies and turns what may have been a momentary pause to collect your thoughts into full-blown writer's block.
Yep, it's happened to all of us. There's a lot of pressure to capture readers' attention within seconds. If the lede is lead, your story is sunk.
There's a misconception that you must write articles linear from start to finish. Not true. While that's one way to do it, it's not the only way.
So how do professional bloggers, content marketers and authors keep writer's block at bay so they can churn out the copy and stay on deadline? Literally, just start writing. Anywhere within the story.
How do professional bloggers, content marketers & authors keep writer's block at bay so they can churn out the copy and stay on deadline? Check out this insider tip you can implement today. #writingtips #contentmatters
Click To Tweet
To Get In Flow, Just Start Writing
You know Newton's First Law Of Motion: An object at rest stays at rest; an object in motion stays in motion unless acted upon by a net external force. What does physics have to do with writing? More than you might think.
Writing is all about flow. In my experience, the more frequently you write, the easier the words flow. But when you take a break from writing for a day, a week, a month, your writing brain is at rest. And it will stay that way unless you apply force to get it going again.
Forcing yourself to write can sometime feel like rolling a 350-pound boulder uphill. Hello writer's block. The secret to adding ease to the process is to find the path of least resistance and start there. Oftentimes, this means beginning somewhere other than the actual beginning of the blog post.
Sure, the finished story will have a logical order that makes sense. But this doesn't mean that you must write the content in that exact order. Quite the contrary.
What does this look like in practice? Keep reading for a real-life example.
Even professional #content creators get writer's block. Here's what I did to break free so I could complete a blog post on deadline. #bloggingtips #contentmatters
Click To Tweet
I Had Writer's Block; Here's What I Did To Break Free
In my work on the Corporate Specialties blog, many of the stories I write are product showcases that feature categories of branded merchandise—top eco-friendly promo products or must-have promotional tech items. Sometimes, figuring out how to draw the reader in isn't immediately clear. So rather than fret about how to start, I simply start writing…in the middle.
This happened to me when I was writing a story on summertime promotional products. The intro was so clouded from view that it seemed like I was surrounded by fog in San Francisco. Rather than begin at the beginning with the lede, I skipped right to writing about the products. Having an image of the product for inspiration + using the item specs is the easiest place to start for this kind of blog post. Each product only requires a couple paragraphs of writing—a much less daunting task than looking at the article as a whole.
By breaking the writing down into bite-size chunks, it's much easier for your brain to get onboard with the workload. After writing one or two, the process becomes easier because you're replicating many of the same steps. Then creativity kicks in…as does flow and your writing begins to move.
Once I had all of the product descriptions written in the first draft, it was much easier to write the intro and conclusion. Before you know it, the blog post was done. Wanna read it so you can see how it turned out? Click here.
Your Writing Is Unique, So Is Your Writing Process
There are many paths to success, in writing and in life; you just have to find the way that makes sense to you and nets the results you want.
When writing, look at when you're most creative and have the least amount of clutter in your mind, then schedule time into your day to write then. For some, it's in the morning before emails, meetings and responsibilities hijack the day. For night owls (hello, table for one!), the words often begin coming to life at twilight.
Next, find an approach that works for you, whether that's structuring an outline, brainstorming headline ideas or simply jumping right into the crux of the story. Keep in mind, the approach may change based on what you're writing and how you've been inspired. Be flexible and know that there's no wrong way to get started—as long as you just begin.
Embrace the first draft. It's not meant to be perfect. The goal is to get ideas written down; then add to, edit and fine tune until the copy sings.
Remember, perfect is an illusion. Don't let the false expectation of perfection hold you back. Done is better than perfect.
That said, don't be afraid to ask for help if you feel stuck or aren't getting the results you want. Get feedback from a coworker or outsource to professional editors (like us!) to give your work a once over with the red pen before publishing.
Takeaway: Content matters. Publishing content that provides a service and resonates with readers is an important way to enhance your online reputation. Don't get tripped up by not knowing where to start. Follow the tips above, get to work and let your writing shine.
Publishing #blogs that provide a service & resonate with readers enhances your online reputation. Don't get tripped up by not knowing where to start. See these #writingtips to make your #content shine. #contentmatters
Click To Tweet
---
What's Next: Want to brainstorm ways to craft your next article? Need feedback on one you've written? Want to outsource blog production so you don't have to worry about it? You're in the right place. We can help. Contact us to learn how.
Feedback: Did this article resonate with you? Find the tips helpful? We'd love to hear about how you're implementing what you learned as well as what spoke to you the most. Drop us a line here and let's get the conversation started!
Like this? Please share it on social media so others can benefit, too. Thanks!