Client Blog Spotlight: Mark Wilson Tells Time Unconventionally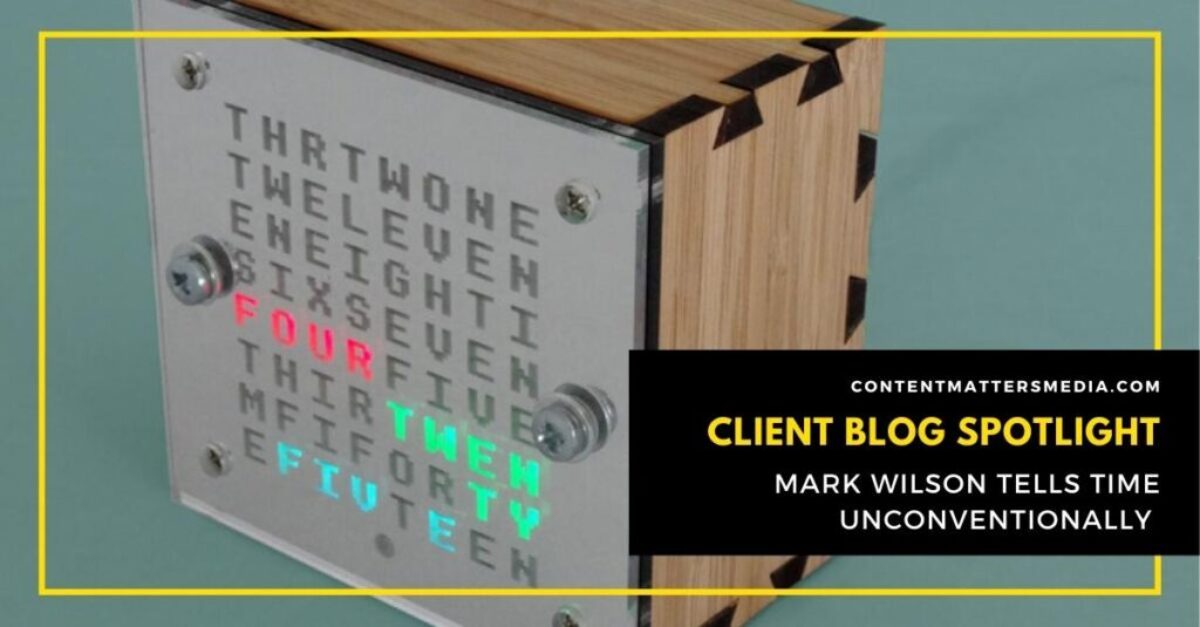 Have you ever wished you could save time in a bottle? Or do you feel like you have too much time on your hands? Time is funny, in a peculiar, fluid way. It flies by as kids grow up but stands still in office staff meetings. Vacations seem too short, workdays too long.
However time ticks by, thankfully there are horologists like Mark Wilson that are serious about telling time. A software engineer by day, Mark often finds himself making clocks in his time off. But these aren't just any ol' clocks. He's taking an unconventional design route, skipping the numerals and using the alphabet to tell time in this unique word clock. In this Maker Spotlight on the Ponoko Blog, I dive into Mark's approach to chronicling the hours—one carefully placed word at a time. You definitely want to see Mark's creations for yourself here. It will be time well spent.
Takeaway: Content matters. As does showcasing your client work. Part of supporting the sales process includes building out a robust selection of blog posts that talk about the success you've had with clients. They want social proof of your expertise, and blogging about your creative campaigns is one way of giving them what they need to be comfortable to make a purchase.
Client Blog Spotlight: Mark Wilson Tells Time Unconventionally #casehistory #contentmatters
Click To Tweet
---
What's Next: Want to add client spotlights to your blogging lineup? Let's chat. We can develop the client questionnaire, conduct the interviews and create blog posts that make your skills shine. Contact us here to get started.
Feedback: What did you think of this article? Do you publish client spotlights or case histories of your work? If so, how are you using these posts to support the sales process? We'd love to learn more about your experience as well as how this article resonated with you. Drop us a line here and let's get the conversation going.
Like this? Please share it on social media so others can benefit, too.